Health Support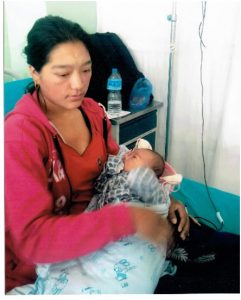 1. Kabita Tamang is a 19 year old young woman from the Gami VDC, ward no. 08 of Khotang District. She is suffering from Leukemia, a blood cancer that was diagnosed while she was in Grade 10 in May 2015. Recently, Kabita moved to Bhaisepati of Lalitpur in order to rent a room during her treatment at the Civil Hospital of Kathmandu. According to her doctor, she is undergoing treatment and also has a five-month-old baby, who is healthy. HNF has chosen to support Kabita's treatment in an effort to improve her quality of life and to assist with the care of her daughter. HNF has supported her NRS 35000 on May 8th, 2016 for her treatment. 
2. Ram Prasad Bajgain from Lalitpur District, Mankhola VDC-03 is a cancer victim since two years. Currently he is visiting Bharat Cancer Hospital for his cancer treatment. His financial condition is worsening day by day so he has requested to Himalayan Nepal Foundation for financial support for his treatment. Considering his financial condition and status of disease, Himalayan Nepal Foundation has supported NRS 10000 one time on September 28th, 2016 for his treatment to improve his health condition.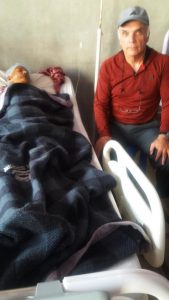 3. Mrs. Miththu Ghimire; a 60-year-old lady living in rent at Bhaisepati of Lalitpur District. She was admitted at Bir Hospital in ICU on 2074-06-02 for the treatment of Brain Hemorrhage. Her family's financial status is poor and her husband; Mr. Badri Prasad Ghimire has requested for the financial support for her treatment. Therefore, Himalayan Nepal Foundation considering the family's weak economy and application has supported her NPR 15000 on 2074-07-11 for the treatment and committed to support her in coming days, when fund is raised in the organization 
4. Susan Bajgain is the son of Mr. Rajan Prasad Bajgain, resident of Mahankal Rural Municipality Ward No. 2 of Lalitpur District. He is a 16 years old young boy suffering from Blood Cancer since 2074/11/20 (Mach 4th, 2018). His Blood Cancer treatment is being done in Bhaktapur Cancer Hospital at Bhaktapur. His famaliy's economic status is weak and hard to bear all the expenditure of his treatment. Therefore, Himalayan Nepal Foundation (HNF) has supported NPR 25000 in 2075/3/19 (July 3rd, 2018) for partial financial support in his treatment.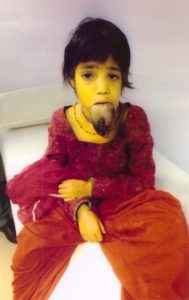 5. Ms. Nandha Bhul, a 10 year old girl from Dilassainin Rural Municipality, Ward Number 5, Bina Basti, Bhul Gaun of Baitadi District was evaluated in Pediatric Surgical OPD at Grande International Hospital, Dhapasi, Kathmandu on March 18, 2019 for Macroglossia with a probable diagnosis of Carvernous Hemangioma of the Tongue. During this she was found to be grossly undernourished and her blood test showed Iron Deficiency anemia. In view of requirement for preoperative optimization, she has been advised to follow the instructions: take medicine prescribed, oral and naso-gastric feeding, Chest X-ray and Mantoux test, Blood transfusion (Packet Red Cells) and Chlorhexidine mouth wash.
It was hard time for her family to bear cost of her treatment due to the poor economic condition. As per the commitment of our honorary member; William Gregg Blyth to support her for the treatment, we've handed over USD 500 to her care taker on behalf of our honorary member from the HIM Foundation.